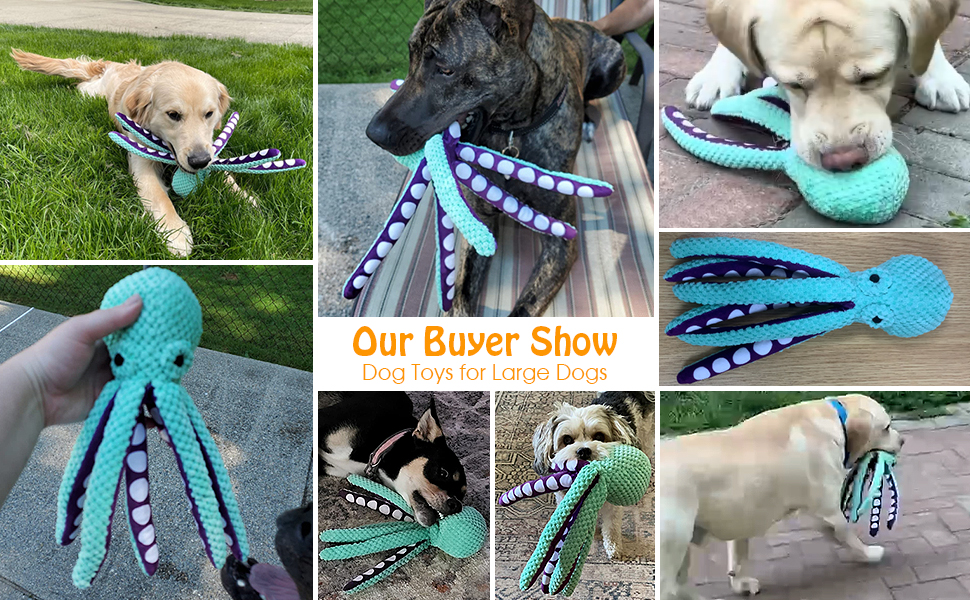 Plush Dog Toys for Small, Medium and Large Dogs
1.The length of the dog toy is 13inche. It is suitable for puppy teething and small to larege dogs training and reduce boredom. Not for very aggressive chewers.
2.Like every other plush dog toys, the pet toys for dogs are not indestructible and not suitable for strong chewing. We recommend supervised play and timely replacement of the broken ones.
3.The puppy chew toy is very popular with dogs, it can accompany your dog to spend a very pleasant time and reduce some of their bad behavior due to boredom.
Our big dog toys have a professional after-sales team. If you have any questions about large dog toys, please let us know promptly and we can replacement within 90 days.
Questions and Answers
Q1:Are these dog toys easy to bite and tear? Are they safe?
A1:Our dog toys for small dogs are made from soft pineapple cotton, soft and comfortable fabric with firm stitching, without getting easily broken, that won't hurt your gums and mouth when your dog chews.This is a tough dog chew toys.
Q2:This durable dog toys suitable for large dogs?
A2:Yes. stuffed dog toys suitable for large dogs, but not recommended for very aggressive dog breeds.
Q3:Is this a puppy toys? Are there squeaks in the head and legs?
A3:Yes, this is a squeaky dog toys, the head squeaks and the legs do not squeak.
Q4:Is this big dog toy machine washable?
A4:Yes,our dog toys for large dogs can be hand washed or washed in the washing machine to reduce dirt and keep your dogs healthy.